Quest Aircraft Announces Next Generation Kodiak 100, Series II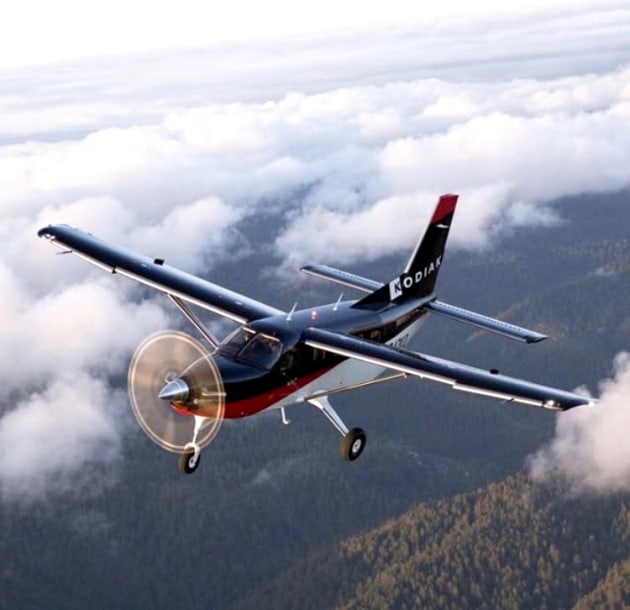 One decade after the first delivery of a Kodiak 100, Quest Aircraft is has announced the next generation of the Kodiak 100: The Series II. 
The Kodiak 100 Series II by Quest introduces an expansion to the standard equipment list, which now includes Garmin's next generation G1000NXi, as well as an Angle-of-Attack indexer, digital 4-in-1 standby, Flight Stream 510 and a two-year subscription to the Kodiak Mobile App, backed by Garmin Pilot.
The Series II also raises the bar for Kodiak creature comforts. In the cockpit Quest added two new gloveboxes for additional cockpit storage, improved Rosen sun visors for better UV protection and ergonomics, and incorporated LEMO plugs for hardwired Bose headsets. The cargo doorstep has been redesigned to reduce weight and improve functionality, and fuselage seals have been enhanced to provide even better soundproofing and cabin ventilation.  Additionally, a single point refueling station is now an available as an option, designed to give the operator a simple, clean and easy way to refuel both wing tanks using a single port.  
"We're incredibly proud to debut the Kodiak 100, Series II. The refinements and upgrades across the entire platform truly elevate the Kodiak experience, while continuing to deliver the distinctive design and workmanship we're known for" said Rob Wells, CEO of Quest Aircraft.
The 10-seat Quest Kodiak 100 combines STOL performance and high useful load. It offers proven turbine reliability with the Pratt & Whitney PT6 turbine engine and has the ability to land and take off from unimproved surfaces. The Kodiak can take off in under 1000 ft at full gross takeoff weight of 7255 lbs and climb at over 1300 fpm. Originally designed to be the ultimate humanitarian workhouse, the unique combination of robust construction and remarkable payload capability has resulted in many additional applications for the Kodiak, including float (amphibious and straight) operations, special missions, medevac, skydive and more.
The Kodiak 100, Series II is available for order immediately, and customer deliveries are already underway. The newly certified aircraft will be on display at the Quest booth during EAA AirVenture in Oshkosh, Wisconsin. 
For additional information on Quest and the Kodiak, please visit the Quest Website